AwesomeMailer - Multiple SMTP Support IP Rotating Email Sender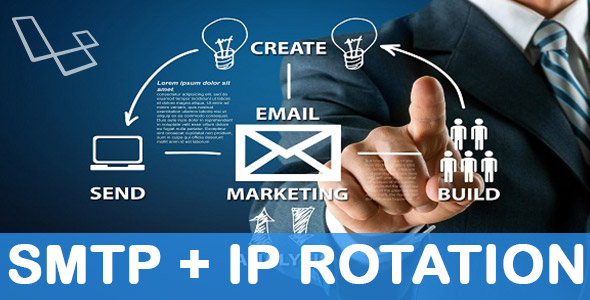 Awesome Mailer is simple email marketing tools working with SMTP, Its support multiple SMTP with IP Rotation system. Its support both plain text and HTML email formate. mailer is an strong usefull and painless system for email campaign including A to Z email campaign report. included Tracking system, its now easy to see how much people open your campaign mail.




Key Features:
☞
IP Rotation
system.
☞ Easy to Install.
☞ Secure Admin Panel.
☞ Manage SMTP.
☞ Support Unlimited SMTP.
☞ Easy
SMTP Checking.
☞ Enable Disable SMTP.
☞ Wipe Inactive SMTP.
☞ Easy to Create
New Campaign.
☞ Easy to Upload Contact's.
☞ Changable Sender & Subject.
☞ A to Z
campaign Report.
☞ Total Sent mail Report.
☞ Total Delivared mail Report.
☞ Total Pending mail Report.
☞ Total
Seen mail Report.
☞ Others General Setting's.
Demo Access:
SMTP Panel:
http://mailer.thesoftking.com/
Admin Username: admin || Password: admin
Update Log's (12-08-2017):
Security Updated.
Tracker System Updated.
SMTP Test System Updated.
IP Rotation System Updated. (2x Faster Now).

Support Facility:
Please send us your product presale query, after sales developer support request, customization project and any other queries to our dedicated support:
[email protected]
91 Sales
First release

26th July 2017

Last update

06th April 2020

Compatible Browsers

IE6,IE7,IE8,IE9,IE10,IE11,Firefox,Safari,Opera,Chrome,Edge,

Software Version

PHP 7.x,PHP 5.6,MySQL 5.x,

Demo URL

http://mailer.thesoftking.com/

High Resolution

Yes

Software Framework

Laravel,

Files Included

JavaScript JS,CSS,PHP,SQL,

Video Preview Resolution

Tags