CLUB-8 EMS - Event Management System A to Z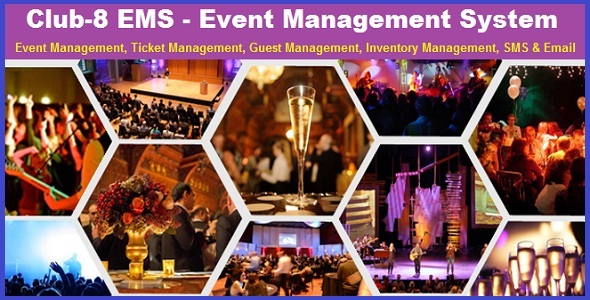 "CLUB-8 EMS – Event Management System" is designed to help Ticket Seller's and event planners more easily navigate every aspect of the event process. Increase attendance and engagement by using "CLUB-8 EMS" event management software to create multifaceted marketing campaigns surrounding your events. Create organization-wide event success with powerful reporting, strategic integrations, Sale's System, Ticket Booking and Guest Registration service.




Feature's Inside:
DashBoard:
High Performance DashBoard. Total Report Included.
Event Section:
Event Create / Edit / Delete. Old Event Disable Section.
Ticket Section:
Ticket Add / Edit / Delete. Ticket Disable, Out Of Stock Management.
Event Inventory:
Set / Adjust Ticket Sale Limit, Sale History, Discount, Due & More.
Guest & Visitor:
Add / Edit / Delete Guest List, Manage There Bill's & Ticket.
Billing Section:
Generate Invoice, EaSy Search Old Invoice, Total Sale's History.
Salesman Management:
Add / Edit / Delete Sale's Person. Easy Maintain Invoice.
Campaign Section:
EaSy Campaign & Invite System By Email & SMS. Event & Guest Targeting System.
Demo Access:
Access:
http://ems.rexbd.net
Username:
admin
Password:
admin
Support Fecility:
Please send us your product presale query, after sales developer support request, customization project and any other queries to our dedicated support:
[email protected]
13 Sales
First release

15th December 2015

Last update

06th April 2020

Compatible Browsers

IE9,IE10,IE11,Firefox,Safari,Opera,Chrome,Edge,

Software Version

PHP 5.x,

Demo URL

http://ems.rexbd.net

High Resolution

Yes

Software Framework

Files Included

JavaScript JS,HTML,CSS,PHP,SQL,

Video Preview Resolution

Tags