eBus - Online Bus Reservation & Ticket Booking System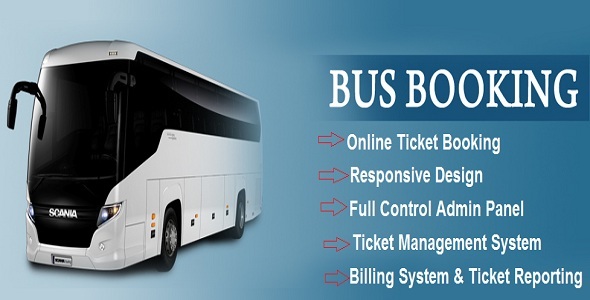 Online Bus Reservation System is designed to automate the online ticket purchasing through an easy online bus booking system. Embed our online bus ticketing system on your website and enable your customers book tickets for various routes and destinations using. With the bus ticket reservation system you can manage reservations, clients data and passengers lists. You can also schedule routes, set seat availability, upload an interactive seat map and let customers select their seats.




User Feature's (Frontend):
* Fully Responsive Design (Work's with Every Device).
* Dynamic Informative Menu's.
* Easy contact Option.
* Easy Registration System.
* Ticket & Bus Route Searching Syste.
* Seat Choic & Booking System.
* Manualy Payment Method.
* Ticket Change / Cancel System.
* User Profile Management.
* Online Ticket Download System.

Admin Feature's (Backend):
* Manage Route ( Route Add / Edit / Delete ).
* Manage Bus ( Bus Add / Edit / Delete ).
* Schedule Management ( Bus Schedule Add / Edit / Delete ).
* Bus Ticket Management.
* Seat Management.
* Booking Report Print.
* Ticket Manage System ( Approve Or Deny Online Ticket Booking ).
* Enable / Disable Bus.
* Total Statistic's Of Every Bus Journey.
* Dynamic Control Panel for Website Management.
* Add / Edit / Delete Site Logo.
* Add / Edit / Delete Site Banner.
* Add / Edit / Delete Site Title / Phone Number & Email Address.
* Add / Edit / Delete Site Menu.
* Add / Edit / Delete Content Of Menu.

Demo Access:
Demo Frontend: http://ticket.rexbd.net
Demo Admin Access: http://ticket.rexbd.net/admin.php
Demo Admin ID: admin
Demo Admin Pass: admin
Support Fecility:
Please send us your product presale query, after sales developer support request, customization project and any other queries to our dedicated support:
[email protected]
Update History
Version 2 – December 5th, 2016
- New Templete Added.
- Ticket Price System Added.
- Route Display Added.
- Coding Structure Updated.
- Error Solved.
- All Bug's Fixed.

Update History
Version 1 – February 10th, 2016
- Session System update.
- Demo Query Problem Solve.
- Some Backend File's updated.
- Security System added on User panel.

83 Sales
First release

09th January 2016

Last update

06th April 2020

Compatible Browsers

IE9,IE10,IE11,Firefox,Safari,Opera,Chrome,Edge,

Software Version

PHP 5.x,

Demo URL

http://ticket.rexbd.net

High Resolution

Yes

Software Framework

Files Included

JavaScript JS,HTML,CSS,PHP,SQL,

Video Preview Resolution

Tags