Exchangeo - Online Currency Exchange Platform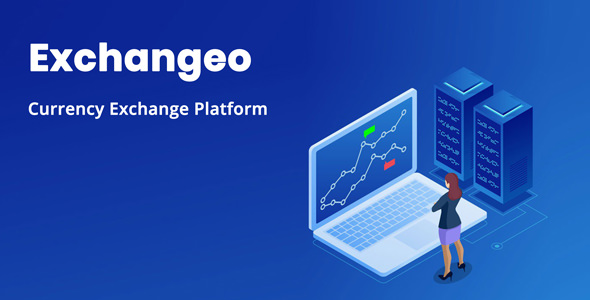 Exchangeo is an Online Currency Exchange Platform Developed with Laravel. With our script you can create your own website for exchange of electronic currency (Such As: PayPal, Bitcoin, Skrill, WebMoney, Payeer, Perfect Money, AdvCash, OKPay, SolidTrust Pay, Payza ETC). Included wonderful and friendly interface for use by the customer and practical admin panel for use in the administration of the site. Exchangeo Comes with Cross Browser Optimization and 16+ Automatic payment method.
User Features:

Currency Exchange Facility.

Currency BUY Facility.

Currency SELL Facility.

Blog & Contact Facility.

Infront Exchanger.

Easy Signup & Signin.

Sell Currency Activity.

BUY Currency Activity.

Exchange Currency Activity.

16+ Deposit Method.

Deposit History.

Easy to Withdraw.

Withdraw History.

Total Transaction Report.

Profile Management.

Referance System.

And More.

Cross Browser Optimized.

Admin Features:

Manage Currency.


Buy Log.


Sell Log.


Exchange Log.


Manage Bank.


Manage User.


Manage Deposit.


Manage Withdraw.


All Subscribers.


Manage Blog.


Website Control.


Interface Control.


Payment Gateway Managment.


Withdraw Request.


Withdraw Approved.


Withdraw Refunded.


Manage Social.


Manage Service.


Testimonials.


Manage Faq.


Manage Service.


Email Setting.


SMS Setting.


Contact Setting.


Interface Control.


And More.


Script Comes With:
Excellent support with a fast response rate.
Fix any bugs or broken content.
Help get you setup and installed!
Secure Database that uses prepared statements so no SQL Injection!
Protects against CSRF attacks!
HTML Filter to protect against XSS attacks!
Built using the latest Strong LARAVEL Framework.
Passwords are encrypted By bcrypt encryption.
You should need GMP Extension to run it.
Demo Access:
Frontend:
http://centric.thesoftking.com/exchangeo/
Admin Access:
http://centric.thesoftking.com/exchangeo/admin
Admin Login: Username: admin || Password: admin
Support Facility:
Please send us your product presale query, after sales developer support request, customization project and any other queries to our dedicated support:
[email protected]
Release Log:
V2.0 – 26 Feb 21
 - SMTP Mail Update
 - Updated to Laravel 7
 - Updated to powerful admin panel
 - Previous Issue fix
 - Multiple language system added
 - Responsive issue fix
 - Twak.to, Google analytics, facebook-comment added
 - Google 2FA Verification added
 - Simplified code structure
 - Powerful Reporting of buy, sale and exchange log
 - Design Updated
 - SEO Manager

22 July 19 (V1.2)
- Sell Commission Fixed
- User Management Issue Solved
- User login log Solved
- Few minor CSS changed

3 February 19   (V1.1)
- Price System Updated.
- Security Bugs Fixed.
- Exchange system Updated.
- Responsive Issues Fixed.

20 November 18 
- Initial Release

131 Sales
First release

20th November 2018

Last update

27th February 2021

Compatible Browsers

IE6,IE7,IE8,IE9,IE10,IE11,Firefox,Safari,Opera,Chrome,Edge,

Software Version

PHP 7.x,MySQL 5.x,

Demo URL

http://centric.thesoftking.com/exchangeo/

High Resolution

Yes

Software Framework

Laravel,

Files Included

JavaScript JS,HTML,CSS,PHP,SQL,

Tags