HighLow - Crypto Prediction Trading Platform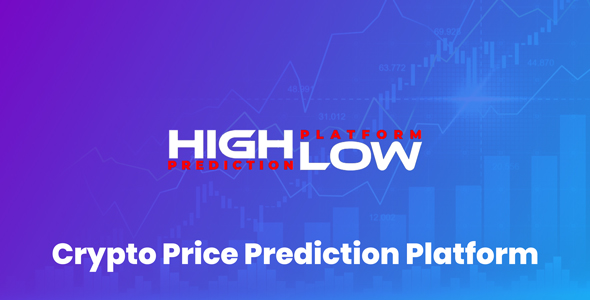 HighLow is an High-Low Guess Crypto Price Prediction Web Platform Developed with PHP Laravel. With HighLow script you can create your own HighLow Website within a minutes without anykinds of programming knowledge. Included wonderful and friendly interface for use by the customer and practical admin panel for use in the administration of the site. HighLow is a Cross Browser optimized, SEO Friendly, Responsive, Error Fee Scripts for Trading solution.
User Features:

Cross Browser Optimized Platform.


Informative Frontend.


Easy to signup & Signin.


Secure & Responsive User Dashboard.


On Demand Crypto Coin Choose.


Instant High-Low Play.


Live Currency Graph.


Live Win-Loss.


Time Count Facility.


Automatic Deposit Method.


Deposit Logs.


Easy Withdrawal System.


Withdrawal Logs.


Transaction Logs.


Profile Management.


And More.


Admin Features:

Highly Secure admin Dashboard.


User Management.


Payment Gateway Management.


Withdraw Management.


Game Management.


Website Control.


Interface Control.


Logo Icon Setting.


Page Management.


Social Icon Setting.


Frontend Setting.


Web Features Management.


Contact Setting.


Footer Setting.


Email & SMS Setting.


CryptoCurrency Settings.


Game Settings.


Game Log.


Withdraw Methods Management.


Withdraw Requests Management.


Broadcast Email Send.


Subscribers Management.


Deposit Log.


Withdraw Log.


Transaction Log.


And More.


Script Comes With:
Excellent support with a fast response rate.
Fix any bugs or broken content.
Help get you setup and installed!
Secure Database that uses prepared statements so no SQL Injection!
Protects against CSRF attacks!
HTML Filter to protect against XSS attacks!
Built using the latest Strong LARAVEL Framework.
Passwords are encrypted By bcrypt encryption.
You should need GMP Extension to run it.
Demo Access:
Frontend:
http://centric.thesoftking.com/highlow/
Admin Access:
http://centric.thesoftking.com/highlow/admin
Admin Login: Username: admin || Password: admin
How to Add Demo Balance: Just go to deposit and select CreditCard Gateway and use below Demo Card Credentials
Card Number: 5555 5555 5555 4444
Expire Date : 02/2020
Cvv : 123
Release Log:
V2.0 – 18 Mar 21
 - PHP version update to 7.2
 - Templete Updated
 - New section added 
 - Livechat Added 
 - Custom recaptcha added 
 - Google recaptcha added 
 - Google analytics added
 - User dashbaord change 
 - Deposit system Updated 
 - Deposit log Updated
 - Reports Updated
 - Withdraw system Updated
 - Withdraw log Updated
 - Admn dashboard Updated
 - Plugin And Extensions added
 - Frontend Updated
 - Email Templete Added
 - SMS Templete Added
 - Transaction Updated
 - Withdraw system Updated
 - Withdraw log Updated
 - Deposit system Updated
 - Deposit log Updated

Support Facility:
Please send us your product presale query, after sales developer support request, customization project and any other queries to our dedicated support:
[email protected]
31 Sales
First release

03rd April 2019

Last update

18th March 2021

Compatible Browsers

IE6,IE7,IE8,IE9,IE10,IE11,Firefox,Safari,Opera,Chrome,Edge,

Software Version

PHP 7.x,MySQL 5.x,

Demo URL

http://centric.thesoftking.com/highlow/

High Resolution

Yes

Software Framework

Laravel,

Files Included

JavaScript JS,HTML,CSS,PHP,SQL,

Tags