NewsOne - Creative Solution For Newspaper Magazine & Blog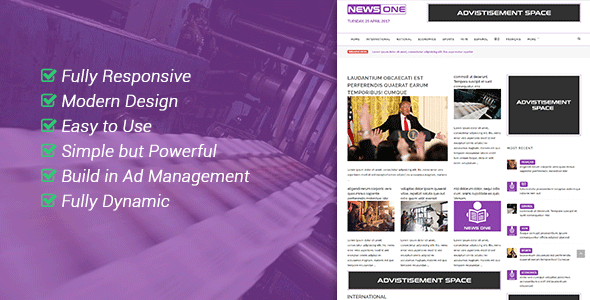 NewsOne is next generation software creates great looking Newspaper & Magazine websites and is so easy to use, even you could publish one. If you've ever wanted to publish your own online newspaper or magazine website but didn't know how, then NewsOne is for you. You can have your own News website up and running in a matter of minutes! it is a most popular newspaper script and most powerful php application which is designed and developed by Core PHP. It is one of the unique idea on news world. Every News agency and News portal owner can use this application. User do not need to know single line of coding.


KEY FEATURES:
☆ Fully Responsive Design.
☆ User Friendly & SEO URL.
☆ Easy News Search System.
☆ News Comments With Facebook.
☆ One Click Social share.
☆ Easy to print News.
☆ Category Wise News.
☆ Top / Lastest / Most View News.
☆ Breaking News On Header.
☆ Calender Wise News.
☆ News ARCHIVE.
☆ Support All most all Language.
☆ 100% Secure & Dynamic Admin Panel.
☆ Information Dashboard.
☆ News Category Management.
☆ Sub-Category Management.
☆ STAFF Management.
☆ STAFF News Management.
☆ Desk Management.
☆ News Management.
☆ Featured News / Headline Management.
☆ Total News View Report.
☆ Lead News Management.
☆ Category Wise Advertisement System.
☆ Support Banner Advertisement.
☆ 3 Different Advertisement.
☆ Advertisement Hit Counter.
☆ Default News Image Settings.
☆ Logo Settings.
☆ Favicon Settings.
☆ SITE Pre-Loader Settings.
☆ Footer Content Management.
☆ Website TITLE Management.
☆ News Per Page Management.
☆ Template / BASE COLOR Change Facility.
☆ Self Published News Gallery.

Demo Access:
Demo Frontend: http://idealbrothers.thesoftking.com/newsone/
Demo Admin Access: http://idealbrothers.thesoftking.com/newsone/admin
Admin ID : admin
Admin Password : admin


Demo Staff Access: http://idealbrothers.thesoftking.com/newsone/admin
Staff ID : staff
Staff Password : staff

Support Facility:
Please send us your product presale query, after sales developer support request, customization project and any other queries to our dedicated support:
[email protected]
5 Sales
First release

03rd May 2017

Last update

06th April 2020

Compatible Browsers

IE6,IE7,IE8,IE9,IE10,IE11,Firefox,Safari,Opera,Chrome,Edge,

Software Version

PHP 7.x,PHP 5.x,PHP 5.0 - 5.2,PHP 5.3,PHP 5.4,PHP 5.5,PHP 5.6,MySQL 5.x,

Demo URL

http://idealbrothers.thesoftking.com/newsone/

High Resolution

Yes

Software Framework

Files Included

JavaScript JS,HTML,CSS,PHP,SQL,

Video Preview Resolution

Tags