PonziPRO - P2P Donation Platform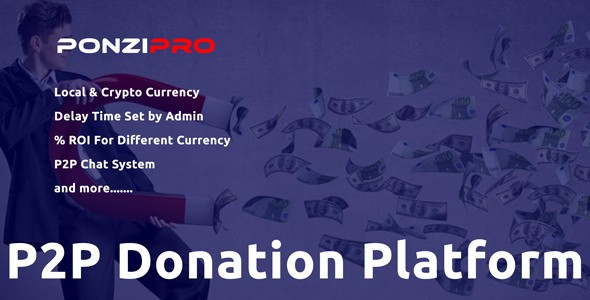 PonziPro Is a 2:1 MATRIX Peer To Peer Give Help & Get Help Donation Scheme Platform Build With PHP Laravel. This is a User to user Donation system Where a user can donate another user. and when the first users donation is complete, then he is eligible to get donation from other user with the ROI set by Admin and with a Certain Period Delay. So a user can donate and get More donation.
Latest Features:

Support Local & CryptoCurrency.

Delay Time Setable.

% ROI For Different Currency.

Peer To Peer LiveChat.

Professional Looks.

Cross Browser Optimized.

Anti-Fraud, Risk Free, Bugs Free, 100% Secure.

And More....
User Features OverView:

Fully Responsive Design.

1:2 Matrix.

Peer 2 Peer Connection.

Informative Menu's & Contact Form.

Easy to Registrared & Login.

Instant Workx Forgot Password.

SUPPORT SMS Notification.

Fully Automated Matching System.

Login IP List.

Header News.

Easy to Donate SomeOne.

Informative USER Dashboard.

Waiting Serial Section.

All Transaction Report.

Automated Referer link.

Referer Commision Facility.

Easy To Update Profile.

Refer Member List.

Support Ticket Desk.

LiveChat System.

100% SEO Friendly URL.
Admin Features OverView:

Fully Dynamic Admin Panel.

Georgios Admin Dashboard.

Total Ledger In Dashboard.

A-Z Website Control.

Multiple Currency Support.

Payment Awaiting Time Setup.

Remove Button Time Setup.

Recycle Time Setup.

ReFerrer Bonus Setup.

QUEUE TEXT Setup.

TOTAL STATS Setup.

PROFF UPLOAD SYSTEM.

VERIFICATION SYSTEM.

IP Blocking System.

SUPPORT Multiple Template Color.

Homepage & Home Content Management.

SITE Menu & Menu Content Management.

Legal Information Management.

SITE Slider Management.

LOGO Settings.

Favicon Settings.

Email Notification Setup.

DEFAULT ID Management.

LIVE CHAT Setup.

SITE Pre-Loader Setup.

Donation Package Management.

UNLIMITED Donation plan.

Package ACTIVATION Time Management.

TESTIMONIAL Management.

News Management.

Staff Management.

STAFF Desk Management.

Full Control User.

All User List.

Blocked User List.

Make User Eligible.

ALL Awaiting Donation List.

Donation Search Facility.

IP Blocked & Unblocked Facility.

Support Ticket Management.

All Support Ticket Response Report.
Demo Access:
Admin Login: Username: admin || Password: admin


Script Comes With:
Excellent support with a fast response rate.
Fix any bugs or broken content.
Help get you setup and installed!
Secure Database that uses prepared statements so no SQL Injection!
Protects against CSRF attacks!
HTML Filter to protect against XSS attacks!
Built using the latest Strong LARAVEL Framework.
Passwords are encrypted By bcrypt encryption.
Support Facility:
Please send us your product presale query, after sales developer support request, customization project and any other queries to our dedicated support:
[email protected]
Release Log:
V2.0 – 18 Mar 21
 - Version updated to 7.2
 - Admin Dashboard Updated
 - Deposit log updated
 - Manual Deposit Updated
 - Withdraw log updated
 - Support System updated
 - Plugin & Extension  Added
 - SEO Configuration added 
 - Email System updated
 - Sms System updated
 - Multi Language system added
 - Contact support added

25 Sales
First release

11th January 2019

Last update

18th March 2021

Demo URL

http://centric.thesoftking.com/ponzipro/

Compatible Browsers

IE6,IE7,IE8,IE9,IE10,IE11,Firefox,Safari,Opera,Chrome,Edge

Files Included

JavaScript JS,HTML,CSS,PHP,SQL, Laravel

Tags