Quicky - Classified Ads Listing Platform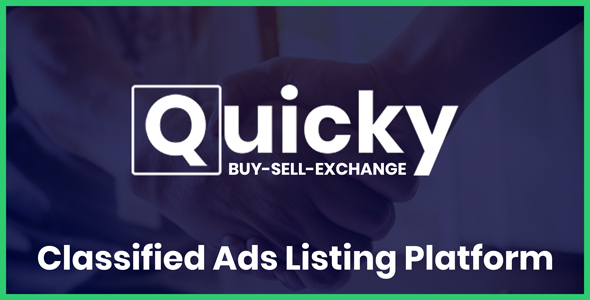 Quicky is a complete Online Classified cms made with PHP Laravel. Quicky comes with all in all features normaly needs to run a classified Website. Quicky Built to be beautiful, fast and powerful. One click setup User facility thats can buyers easily setup this cms and easy to use and customized.
User Features:

Fully Responsive Design.


Easy to Browse Ads.


Multiple Language.


Easy to signup/signin.


Easy to post Ads.


Location Based Advertisement.


Category Based Advertisement.


Strong Ads Filter System.


Premium Search System.


In-Deatils Classified.


Social Share Enable.


Ads Paid Promotion system.


Secure user dashboard.


Favorites.


Account Management.


Email & SMS Notification.


Social Login Enable


And More….


Admin Features:

Secure admin Dashboard.


Website Control.


General Setting.


Email Setting.


SMS Setting.


Language Setting.


Category Management.


District Management.


Packages Management.


Ads Management.


Ads Promotion Request.


Ads Reports.


Users Management.


Gateways Management.


Interface Control.


Menu Management.


Advertisement Management.


Script Comes With:
Excellent support with a fast response rate.
Fix any bugs or broken content.
Help get you setup and installed!
Secure Database that uses prepared statements so no SQL Injection!
Protects against CSRF attacks!
HTML Filter to protect against XSS attacks!
Built using the latest Strong LARAVEL Framework.
Passwords are encrypted By bcrypt encryption.
You should need GMP Extension to run it.
Demo Access:
Frontend:
http://centric.thesoftking.com/quicky/
Admin Access:
http://centric.thesoftking.com/quicky/admin
Admin Login: Username: admin || Password: admin
Release Log:
V2.0 – 18 Mar 21
 - Error Solved
 - Design Update
 - Code Optimized
 - ADS Promote system Updated.
 - Password reset system updated.
 - Stripe payment system updated.

Support Facility:
Please send us your product presale query, after sales developer support request, customization project and any other queries to our dedicated support:
[email protected]
One domain use only. A regular license allows an item to be used in one project use by you or on behalf of a client.

Can be used in multiple domain . An extended license allows an item to be used in multiple project use by you or on behalf of a client.The item cannot be offered for resale and distribution is not permitted.

We will provide you full copyright and will takedown the item from our market. An exclusive license allows an item to be used in anywhere and as you want. The item can be offered for resale, resale in any marketplace and distribution is permitted.
Free technical support
Future product updates
Quality checked by THESOFTKING
Lowest price guarantee
3 months support included
What does support include?
88 Sales
First release

08th May 2019

Last update

19th March 2021

Compatible Browsers

IE6,IE7,IE8,IE9,IE10,IE11,Firefox,Safari,Opera,Chrome,Edge,

Software Version

PHP 7.x,MySQL 5.x,

High Resolution

Yes

Software Framework

Laravel,

Files Included

JavaScript JS,HTML,CSS,PHP,SQL,

Tags