Repro - Traffic Exchanging Platform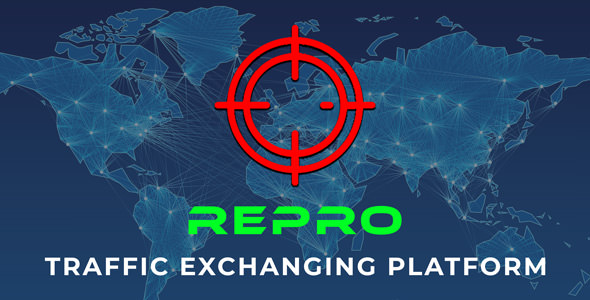 Repro is a Traffic Exchanger Web Platform Helps Website owner share there traffic to another one. Repro is secure and developed with PHP Laravel. Overall 16+ payment method support, Fully Dynamic and Responsive, Support Multiple Template color, Anti-Fraud System, Unique admin and user interface, Easy to use and more inside….




User Overview:
⇥ Cross Browser Optimized.
⇥ SEO Friendly.
⇥ Easy to Login Registration.
⇥ Easy Contact Form.
⇥ Secure User Dashboard.
⇥ Automated Deposit Fund.
⇥ Transaction Logs.
⇥ Buy Credit Facility.
⇥ Own Website Promotion.
⇥ Earn via Click.
⇥ User Profile.
⇥ And More….

Admin Overview:
⇥ Secure Admin Dashboard.
⇥ Full Website Control.
⇥ Frontend Content Management.
⇥ Blog Management.
⇥ Team Member Management.
⇥ Testimonial Management.
⇥ Subscription Management.
⇥ Full Proof User Management.
⇥ Payment Gateway Setup.
⇥ Transaction Logs.
⇥ Package Management.
⇥ Advertise Management ⇥ And More.


Demo Access:
User Access:
http://preview.thesoftking.com/thesoftking/repro/
Admin Access:
http://preview.thesoftking.com/thesoftking/repro/admin
Admin Login: Username: admin || Password: admin
Support Facility:
Please send us your product presale query, after sales developer support request, customization project and any other queries to our dedicated support:
[email protected]
8 Sales
First release

14th August 2018

Last update

06th April 2020

Compatible Browsers

IE6,IE7,IE8,IE9,IE10,IE11,Firefox,Safari,Opera,Chrome,Edge,

Software Version

PHP 7.x,MySQL 5.x,

Demo URL

http://preview.thesoftking.com/thesoftking/repro/

High Resolution

Yes

Software Framework

Laravel,

Files Included

JavaScript JS,HTML,CSS,PHP,SQL,

Video Preview Resolution

Tags