RexHYIP - Premium HYIP Monitor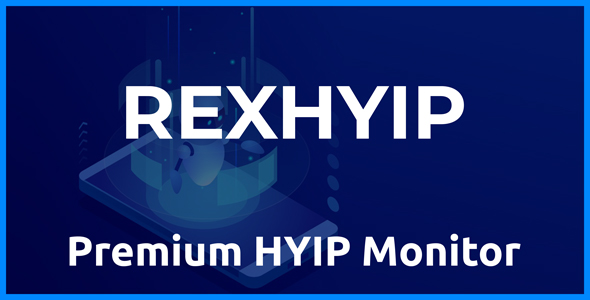 RexHYIP Monitor is the perfect choice for those who want scalable HYIP Monitor Script at an affordable price. Our complete PHP HYIP Monitor site helps you to monitor all HYIP sites, analysis their site Traffic, Details, Rating & Others. Manage Webmasters and administrative tasks fast, easily and efficiently. This software helps you to create and manage your own HYIP Listing site. RexHYIP Comes with Updated Laravel Framewrok. its Built to be beautiful, fast and powerful. its comes with one-click installer thats help to install our system within 5 minutes without any technical knowledge.






User Features:

Fully Responsive Design.


All HYIP Listing.


Complete HYIP Details.


HYIP Rating Facility.


Announcement Facility.


FAQ & Easy Contact Sysyem.


Add Your HYIP Facility.


Social Share Enable.


Easy to Signup / Signin.


Unique User Dashboard.


Deposit Management.


Deposit Logs.


Self Listing Package.


Profile Management.


Multiple Language.


And More.


Admin Features:

Secure Responsive Dashboard.


Feature setting.


Hyip Management.


Package Management.


Deposit Management.


User Management.


Interface Control.


General Settings.


Advertisements Management.


Newsletter Management.


Language Manager.


Articles Management.


Faq Management.


Footer Text Manager.


Logo & Favicon Settings.


Social Icon Settings.


Contact Information Management.


Email Settings.


SMS API Settings.


Notice Management.


And More.

Script Comes With:
Excellent support with a fast response rate.
Fix any bugs or broken content.
Help get you setup and installed!
Secure Database that uses prepared statements so no SQL Injection!
Protects against CSRF attacks!
HTML Filter to protect against XSS attacks!
Built using the latest Strong LARAVEL Framework.
Passwords are encrypted By bcrypt encryption.
You should need GMP Extension to run it.
Demo Access:
Frontend:
https://ideal.thesoftking.com/rexhyip/
Admin Access:
https://ideal.thesoftking.com/rexhyip/admin
Admin Login: Username: admin || Password: admin
Support Facility:
Please send us your product presale query, after sales developer support request, customization project and any other queries to our dedicated support:
[email protected]
28 Sales
First release

09th July 2019

Last update

06th April 2020

Compatible Browsers

IE6,IE7,IE8,IE9,IE10,IE11,Firefox,Safari,Opera,Chrome,Edge,

Software Version

PHP 7.x,MySQL 5.x,

Demo URL

https://ideal.thesoftking.com/rexhyip/

High Resolution

Yes

Software Framework

Laravel,

Files Included

JavaScript JS,HTML,CSS,PHP,SQL,

Video Preview Resolution

Tags