Vakion - Multi Vendor Job Portal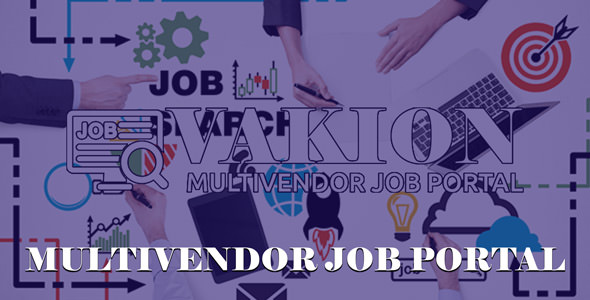 Vakion is a Multivendor Job Hunting Portal Developed with PHP Laravel. Vakion developed for creating an interactive job vacancy for candidates. This web application is to be conceived in its current form as a dynamic site-requiring constant updates both from the seekers as well as the companies. On the whole the objective of the project is to enable jobseekers to place their resumes and companies to publish their vacancies. It enables jobseekers to post their resume, search for jobs, view personal job listings.




Features Inside:
Website Features:
Cross Browser optimized.
SEO Friendly URL.
Easy Job Search.
Job Seeker Panel.
Employer Panel.
Easy to Contact.
Menu's & Social Linkup.
Testimonials & Subscription.
Apply Via Email.
Social Share Facility.
Company Profile.
Advertisements & Contact Info.
And More….
Employer Panel:
Easy to Login / Registration.
Unique Employer Dashboard.
Password Reset Facility.
Profile Management.
Automated Deposit Facility.
16+ Payment Method Support.
Creation of Unlimited Job.
Full Job Management.
Email & SMS Notification Enable.
Company Profile Management.
CANDIDATES Selection Facility.
CV Checkup Facility.
Feature Job Package Purchase.
And More…
Job Seeker Panel:
Filter Based Job Search.
Easy to check Job details.
Apply via email facility.
Company Info Lookup.
Easy to contact JOB Seeker.
Easy to Login / Registration.
All Applications Management.
Skills Management.
Matching Jobs.
Profile Management.
CV / Resume Upload Facility.
And More….
Admin Panel Features:


Secure Admin Dashboard
Website Control

General Setting
Email Setting
SMS Setting
Employment Status
Organization Type
Job Management

All Jobs
Pending Jobs
Published Jobs
Featured Jobs
Unfeatured Jobs
Hidden Jobs
Shown Jobs
Subscribers Management.
Employers Management.

All Employers
Banned Employers
Verified Employers
Mobile Unverified Employers
Email Unverified Employers
Job Seeker Management

All Job Seekers
Banned Job Seekers
Verified Job Seekers
Mobile Unverified Job Seekers
Email Unverified Job Seekers
Featured Job Packages
Payments Gateways
Deposit Management

Pending Request
Accepted Request
Rejected Request
Deposit Log
Transaction Log
Menu Management
Interface Control

Logo+Icon Setting
Header Text Setting
Featured Job Section
Latest Job Section
Subscription Section
Client Testimonials
Contact Setting
Social Links Setting
Background Image
Comment Script
Footer Text
Advertisement Management.
Demo Access:
Frontend:
http://ideal.thesoftking.com/vakion/
Admin Access:
http://ideal.thesoftking.com/vakion/admin
Admin Login: Username: admin || Password: admin
Support Facility:
Please send us your product presale query, after sales developer support request, customization project and any other queries to our dedicated support:
[email protected]
11 Sales
First release

20th August 2018

Last update

06th April 2020

Compatible Browsers

IE6,IE7,IE8,IE9,IE10,IE11,Firefox,Safari,Opera,Chrome,Edge,

Software Version

PHP 7.x,MySQL 5.x,

Demo URL

http://ideal.thesoftking.com/vakion/

High Resolution

Yes

Software Framework

Laravel,

Files Included

JavaScript JS,HTML,CSS,PHP,SQL,

Video Preview Resolution

Tags